Choosing adoption is not an easy choice but because of the love, sacrifice and courage you are showing, your child will have everything needed to start a beautiful life. Ultimately, adoption is a plan created by you and each adoption is as unique as the birth mother who designed it.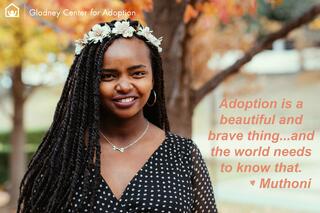 When crafting an adoption plan, it is important to educate yourself on the pregnancy adoption options available and what to expect when choosing the route of adoption.
As an expectant mother partnering with Gladney, you have the opportunity to:
Work with an options counselor to develop a personalized adoption plan.
Choose the baby's adoptive parents

and get to know them.
Discuss with the adoptive parents the level of contact you'll have with the child.
Receive free medical care and legal services during pregnancy.
Receive counseling for a lifetime, helping you process your adoption decision during pregnancy, after birth, and in the future, if needed.
Set goals for the future, taking advantage of career counseling, educational opportunities, and life-skills coaching.
If you're ready to take the next step in your adoption journey or just want to talk to someone who cares and can provide more information, reach out to an options counselor today!