Parenting a newborn infant or a toddler can be very challenging. Gladney understands the unique challenges you may face daily as you care for your child. We understand how difficult it can be to afford food, clothing, diapers and even housing. Often parenting can feel overwhelming and lonely, but please know there is help. Lisa shares her story of utilizing Gladney's Rest & Respite program and how toddler adoption worked for her.
Lisa
When Lisa discovered she was pregnant, she wondered how she could possibly give her baby everything she would need to grow and thrive. Lisa knew it wouldn't be easy as a single mother to provide constant care for an infant, finish school, and work to pay the bills - all at the same time.
Her parents offered to help, and Lisa felt hopeful that she could balance everything and raise her child herself. But then her father died unexpectedly and her mother suffered a debilitating stroke. Without the support she needed to be a successful parent, Lisa felt overwhelmed and exhausted. When her baby girl, Zara, was 3 months old, Lisa called Gladney to get information about making an adoption plan for her.
During that emotional phone call with Sarah, a Gladney Birth Parent Caseworker, Lisa learned about Gladney's new "R & R" (Rest & Respite) program and instantly felt a glimmer of hope and relief. For the next 2 weeks, Zara was placed in the home of a loving transitional care family while Lisa received
in-depth and personalized counseling from Sarah. Together they discussed Lisa's goals and dreams, her limitations, her obstacles in parenting Zara, and her desire to give her child the best life possible. Sarah primarily focused on helping Lisa develop positive parenting and coping skills, with adoption being a secondary plan of action. Since Lisa felt her greatest parenting obstacle was child care, Sarah helped her call and visit day care centers to find one that was affordable and safe.
Lisa was also approved to receive federal day care assistance, and with that, she felt that her greatest obstacle to parenting had been overcome.
Following those 2 weeks of active counseling and assistance from Sarah, Lisa determined that she wanted to continue to parent Zara herself. Sarah says, "Lisa is such a strong person, and she loves Zara with her whole heart. She only wants to the best for her child."
For 6 more months, Lisa continued to struggle to raise her daughter alone. Zara's father showed little interest, and was no longer in their lives. Having day care helped, but Lisa began to realize that childcare was not her greatest obstacle to parenting; it was providing her daughter a life that she could not give her. Lisa did her best to provide for Zara, but she kept thinking about what the possibility of adoption could mean for her daughter's future health and happiness. She called Sarah, and once again entered into Gladney's R&R program – this time to focus on creating an adoption plan for Zara. Any hesitation was over now, and Lisa was totally committed to choosing a family for her daughter. During her counseling sessions with Sarah, Lisa said "I'm happy – I'm giving her the best life."
Lisa read the profiles of waiting adoptive families, and when she talked to Don and Angela for the first time, she knew they were the perfect parents for Zara. After meeting them in person, that feeling was even stronger. Lisa says, "They're amazing parents!"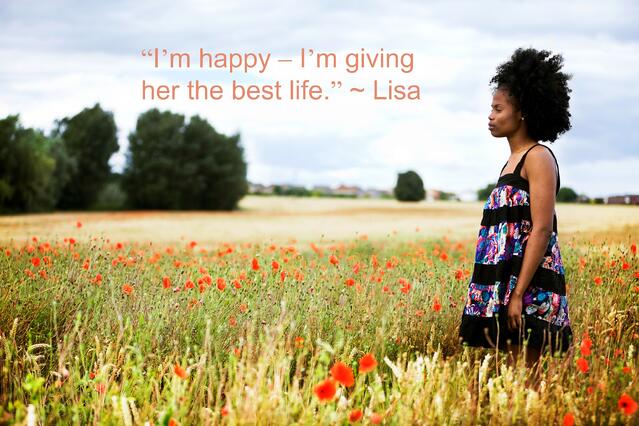 At age 10 months, Zara was placed by Lisa into the arms of Don and Angela. They agreed upon 2 visits a year and regular updates through emailed photos and letters. Throughout her journey of parenting and creating an adoption plan for her daughter, Lisa knew that Zara would always know how very loved she was…and is.
Lisa is now moving forward with her own goals. She has a job and is in college, working toward her BA in Social Work. She is confident and self-sufficient, grateful for the many opportunities that adoption has given both her daughter and herself. Zara is thriving with her Mom and Dad, and Lisa is secure in the knowledge that her future will be bright and filled with unlimited possibilities.
Gladney is proud to offer the opportunity of toddler adoption and older child adoption through the option of participating in our R&R program if that works for mother, child, and family.
Providing help and hope is what Gladney does best. Please call or text an Options Counselor today at 800-452-3639 so they can assist you and your child.
Speak To A Counselor