The Gladney Center for Adoption is named for Edna Gladney, one of our most influential leaders. Edna lived a life of taking care of people experiencing a time of need in their lives, and today the Gladney Center continues to follow our legacy.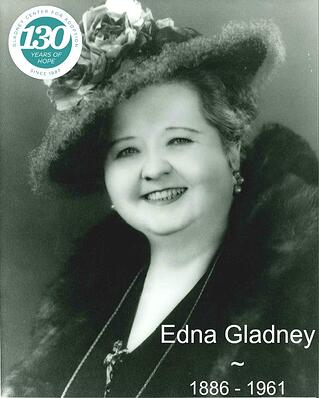 For example, when Edna and her husband lived in Sherman, TX, Edna Gladney fund raised in her community in order to start the Sherman Nursery and Kindergarten for Working Women. Gladney wanted this nursery to be free to working mothers. Today, the Gladney Center sponsors a Rest & Respite program for parents who need time to figure out what they need in order to be a good parent (or if they need to place for adoption).
Another example involves Edna's discovery of a need at the Grayson County Poor Farm. This farm was home to many handicapped and mentally unstable persons as well as numerous orphaned children. However, this farm was not a pleasant place to live. Gladney organized a group of women from the local Civic League to go and personally clean the farm. She also arranged to have the children transferred to I. Z. T. Morris' Texas Children's Home and Aid Society, which would find suitable homes for them.
Years later, Gladney would become the Superintendent of Texas Children's Home and Aid Society. During her time as superintendent, Edna highlighted the importance of caring for unmarried women and their babies. Edna eventually convinced the board to purchase the West Texas Maternity Hospital, which they renamed the Edna Gladney Home. Edna believed that it was important to take care of the birth mothers just as it was important to take care of the babies.
The Gladney Center for Adoption still follows this tradition today. We still have a dorm and offer prenatal care for expectant mothers, but now we also provide career coaching, support groups, and emotional counseling. We give our birth mothers every possible opportunity at a bright future because we believe birth moms are important.
Learn more about how the Gladney Center carries on Edna Gladney's legacy of care and service for expectant mothers by speaking with our Options Counselors.