We know how much you love your family. We care deeply about you and your children, and we are committed to helping you lead happy, healthy lives while looking toward a bright future.
You might be in a situation where you're asking yourself, "how late can I put my baby up for adoption?". The answer is you have options. You have choices. It's never too late.
If you feeling overwhelmed with a situation out of your control or daily life as a parent is just not how you imagined and you're still not sure that adoption is the answer, we can help by giving you the time you need to decide what's best for you and your baby through our Rest & Respite Program.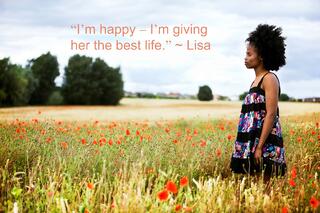 While you're receiving counseling and assistance from a compassionate counselor, your baby can go into short term transitional care with a loving and qualified family for up to 2 weeks. If you move forward with adoption, your caseworker and other Gladney staff will assist with making your plan personalized just for you, and you will continue to receive counseling and post-adoption services. Lisa recently used Gladney's Rest & Respite Program. Read her story.
Please talk to an Options Counselor today by calling or texting 800-452-3639. We're here to listen and to help.