Meet a new Gladney team member -- Meg Scamardo.

Meg is Gladney's Austin Adoption Caseworker. Her role is to serve expectant mothers as their counselor as they are planning adoption. She will help them understand the adoption process and provide them with the tools needed to navigate the adoption journey. Meg will be the expectant mother's advocate and help her develop a plan for her and her baby.

We as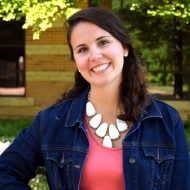 ked Meg a few questions to get to know her a little better.
How long have you been at Gladney?
I started as an Intern at Gladney in the spring of 2013. I took a little break from Gladney when I moved to Austin for graduate school, and I am so happy to now be back as the Austin/Central Texas Regional Caseworker!
Where did you go to school?
I started my college career at TCU, and I eventually graduated with my Bachelor of Social Work from the University of Texas at Arlington. I recently graduated in May 2016 from the University of Texas at Austin with my Master of Science in Social Work.
What is something interesting about you?
I grew up in Houston, so I love Houston professional sports! Texans, Astros, Rockets, Dynamo, you name it! I recently touched JJ Watt's arm, which was a phenomenal moment for an avid Texans fan like me. Also before I decided to become a social worker, I was a theater major! It's not odd to find me singing or dancing in the most unusual or unexpected places. To me, all the world's a stage!
How do you approach your job?
I recognize that adoption is not an easy choice, and it's even harder to talk about and be vulnerable with someone you just met. My job is to be a supportive presence with my clients as they face difficult and life changing decisions. I promise all my clients will be treated with empathy, respect, and compassion. Thank you for letting me be a part of your journey!
If you are pregnant and considering adoption in the Austin, Texas area, Meg would love to talk with you about your options. You can text or call 1-800-452-3639 today.